Don't forget to enter the Sex Giveaway at the end of the post!!
For those of you poor ladies out there who don't know who I am:
Hello, I am the Were-cheetah of your dreams.

Reaper of Multiple Orgasms!

Stimulator of feminine flesh and other soft things needing stimulating!

Many also know me as the lead singer of Mahogany Groove!

While others remember me from the books Fire Baptized and Caged View (my author made me say that).
Trey Songs TRYING to be MeShack!
But none of that really matters, because at the end of the night when I spread your soft thighs, venturing down to taunt and tease your treasures. . .you will all call me god. . .like all of the others before you.
And I will. . .
*MeShack stops talking.
Sorry. I'm back.
The fantasy floozies were wielding knives and baring their teeth at me. Apparently, I went too far off topic.
*MeShack clears his throat.
So today I am here to talk about when Orgies are absolutely recommended.
Why do I capitalize Orgy?
Well I've been involved in many so I can argue that a Big O is definitely required.
*MeShack laughs to himself!
I'll be here all night ladies!
Okay, seriously.
In my supernatural caged city called Santeria, many Shapeshifters live there. I'm talking Were-dogs, Were-wolves, Were-tigers, Were-lions, etc. . .even and I hate to admit this. . . even Were-rats.
Although Humans like to lump all of the Shapeshifters together in one species group, we are very different creatures. In my unbiased opinion, Were-dogs and Were-wolves are mangy little creatures that should be shot.
While any Shapeshifter from the Were-cat family is Totally Awesome!


However, I can't deny that all Shapeshifters have one thing in common, SEASON!

Ace definetly knew about the Season!
Season is like a second puberty phase for Shapeshifters.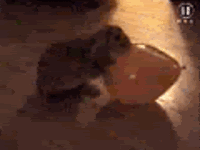 Poor guy understands the Season!
It's when the beasts inside of us begin their puberty, causing hormones to bounce inside of our human forms. In other words, we are horny as hell!
A Shapeshifter's Season usually lasts for seven to ten years. Once the Season is complete the Shapeshifter searches for his or her mate.
I've discovered from personal experience that a Shapeshifter should NEVER commit to someone when they are in their Season. It's pretty much impossible to stay faithful. However, if you must commit to the love of your life. . .PLEASE make sure your lover doesn't have the ability to control and create fire. I made that mistake and was sent to the burn unit many times. Shout out to supernatural burnologist, Dr. Mason!
My best advice, to all Shapeshifters and those who are in love with them, is WAIT until after that person's Season ends!
I recommend Orgies for three reasons. One, no emotional connections, just in and out, and then see you later!
Two, lots of variety.
Three, for some reason I have found the food at Shapeshifter Orgy events to be scrumptious. If you want to try an orgy, definitely try a Shapeshifter one.
So that's it boys and girls! Its time for me to go. . .I've got an Orgy starting at 8 and I can't be late!
FYI, I am currently in my Season for all you interested in making me purr. Please enter the Sex giveaway below! As you see there are TEN possible winners!
a Rafflecopter giveaway